Instagram Insights: Ultimate Guide for Post, Stories and Reels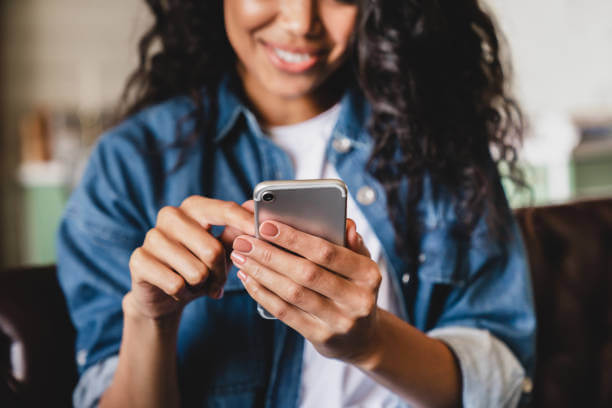 We all know that to build a successful marketing strategy on social media, you have to use all the tools available on these apps to get as much visibility as possible.
But all this work can become useless if you don't know what your audience really wants to see on their feeds. To solve this issue, Instagram made "Insights" to help us know our followers in a much deeper way.
In this article, you will learn what Instagram Insights is, why use it, and how to use it to leverage your business strategy.
What Do Instagram Insights Mean?
Instagram Insights is a tool on the app that allows Instagram Business Account users to understand their audience better by analyzing the performance of the content they create.
You will also be able to see insights on the engagement of your viewers with specific posts, videos, Stories, Live videos and Reels, enabling you to know what they engage and like to boost your Instagram strategy.
In other words, Instagram Insights prevents you from creating and posting contents that your followers may not be as interested in or don't like at all.
Why use Instagram Insights?
To understand why you must utilize Instagram Insights to improve your Marketing Strategy, you have to understand why it's so important to know the preferences of your audience.
There's one thing that all of us need in life: Connection with other humans. It means that we all want to connect with people that share the same tastes and ideas as ourselves.
Therefore, when you know exactly what the tastes, likes and ideas of your viewers are, you will be able to produce content that embraces it all, growing your audience and making loyal followers too.
How To View Insights on Instagram
To utilize Instagram insights, you will need to have a business or a creator account. If you already have a personal account, just switch it up by clicking on the icon "Switch to professional account".
After that, if you're an organization, a business or a brand, the next step is to turn your Professional account into a Business one, because it's more apt for companies.
In your account, click on "Switch account type" and then click on "Switch to Business Account" and now you have total access to Insights!
Now, you will learn how to view insights on Instagram.
Instagram Insights Metrics Explained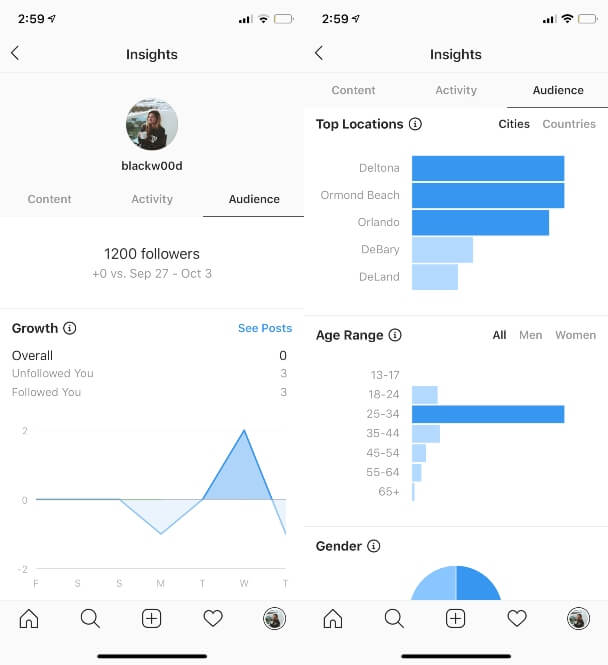 To utilize insights on Instagram, you will first have to learn to read the different terms, numbers and graphs that indicate important metrics. Now, we'll dive deeper into the definition of each and one of these valuable components and extract as much of them as possible. The three main tabs of Insights are: Activity, Content, Audience.
Activity
Activity in the Instagram Insights shows to you the influence of your page, in addition to showing the very details on how the viewers are interacting with it. But, it is important to know that this section of Instagram metrics has a limit to the past 7 days. Also on this tab, we'll find two sets that are extremely important in the analysis: Interaction and Discovery. Let's learn more about them…
Interactions
Here, we can see all the Instagram interactions on your account in the past week, along with a list of other Instagram metrics.
Profile visits: All the visits on your profile on Instagram.
Website clicks: All the clicks on the website link that is in your bio.
Call: The number of times "Call" was tapped on your profile.
Email: The number of times "Email" was tapped on your profile.
Discoverability
Shows all the Instagram profile views and influence of your account with two key metrics: Reach and Impressions.
Reach: How many unique accounts have seen your posts.
Impressions: The number of times your posts have been seen.
With all this information, you will be able to know if your Marketing strategy is going the way you expected or not.
Content
In this tab, you will find the Instagram metrics that are related to the individual post on your account. This can be videos, photos, Stories and even promoted posts that you may have posted and don't remember anymore. The tab Content is divided in Feed, Stories and Promotions…
Feed
With this tool, you can see all your post insights on Instagram by time period, metric and content type. See next, all the post insights on Instagram you can see on the Feed:
Calls;
Comments;
Emails;
Engagement;
Follows;
Get Directions;
Impressions;
Likes;
Profile visits;
Reach;
Saved;
Website Clicks.
Stories
The Instagram story analytics helps you to see the way the viewers interact with your Stories,allowing you to trace a plan and refine your content to better numbers. The Stories insights you can access on Instagram are:
Impressions; 
Reach; 
Exited; 
Replies; 
Viewers; 
Forward; 
Backward; 
Next Story.
Reels
On Reels, you will be able to see how many shares, likes, comments, and saves have been received on your account. This allows you to quantify how much of your Instagram profile views are going exclusively to the Reels you are posting and how to make them more attractive and appealing to your viewers.
Audience
This tab shows you important audience insights on Instagram such as how much your followers are growing; the top locations(countries, cities) where your audience is based and in what period of time they are most active; their gender; the age range where your viewers are set (men and women); and the times when they were most active (days and hours). This is an excellent way to understand your followers and post your content based on that data.
How to Use Instagram Insights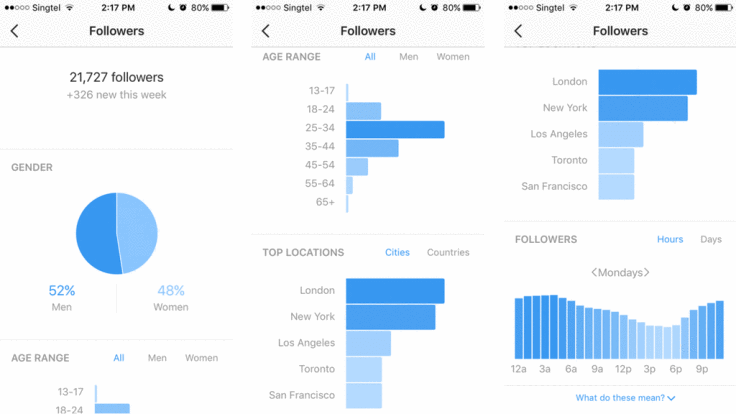 Now, with the concept of Instagram Insights explained, we're going to learn how to utilize Instagram insights in the proper way to get the most of this incredible tool to better our Business and Marketing Strategies on this social media. Here, you will understand how every section works and how to utilize them the right way, avoiding mistakes and ensuring better results. Let's go!
1. Measure reach
As has been said, the reach category shows you how many unique users have seen your posts. Here, you will see:
Your Top Posts: the Post that got the most popularity and reach;
Your Top Stories: the stories that got the most projection and reach;
Your Top IGTV videos: The videos that had a great reach;
Impressions: All the times when your posts have been seen;
Activity on the profile: It can be the number of visits you received, Website taps, and things like that.
2. Track profile visits and followers
Still on the Accounts Reached page, just below Account Activity, you will see an option named "Profile Visits". This metric tells how many Instagram profile views you have on your account. To find out how many of the people that visit your profile are becoming followers, the number of your followers is divided by the number of visitors that came onto your page during all this time. Thus, with this data, you will be able to see if your "conversion" is growing bigger or not.
3. Track content interactions
If you continue to navigate through Insights Overview, you will see a tab named "Accounts Engaged". This will show you how your Instagram interactions are going, demonstrating your content's performance with metrics by content type. The number of people that like and comment on your posts, how many unique users and accounts that saved your posts, all of these things matter if you want to build a strong and successful Marketing Strategy on this app, thus you have to make sure that these number and metrics stay and remain growing, avoiding possible recall on your plans.
4. Learn which actions were taken on your post
If you want to see specific insights on a certain Instagram post, you can visit your profile and click on the post you would like to view, and after tapping on "View Insights" under the image of the post. Below "Profile Activity", you will go to find out how many actions people took on your profile after they saw your post like visiting your account to know more about the content you or your company produce, after taking another action like clicking on your website and start to follow you to know more about the product or service you're offering.
5. Use "Reach" to see where your post showed up in feeds
Named "Discovery" on previous updates, this option shows audience insights on where people see or discover your post the most on Instagram. That includes the number of accounts that weren't already following your profile when they saw a post of yours for the first time. "Reach" also includes metrics on Impressions, meaning how many times your post was discovered from a determined place on the app, like the user's home feed, a search, a hashtag, etc, as well as showing the data on a specific post reach.
6. View Story insights
To view your Story Insights, you have to go back to Insights and scroll down to a section named "Content You Shared". Once again, you need to scroll down to the section of the Stories, where you'll be able to see Instagram Insights on older stories if they have not yet expired. In this segment, the Instagram metrics that you can explore to increase the performance of your Business campaign on this social media: 
Impressions;
Reach;
Taps Forward;
Taps back;
Replies;
Swipe Aways;
Exits.
Wrap Up
To sum up all of this, in this article we saw that to build an intelligent and effective strategy on Instagram, we need to know who is consuming the content that we will produce, and to do that, we have to use the awesome tool of Instagram Insights. To finish, we want to invite you to know Followturbo, a platform that offers REAL followers to boost your Instagram account. Learn more about our plans here.
Escrito Por
Social media and content creator specializing in Instagram growth and engagement strategies. With more than 7 years of experience and proven knowledge, I help brands and influencers to stand out on the platform, I am also a journalist by training and official writer on the Follow Turbo blog.